Yes, we are preparing the 7th year of our traditional Winter Karaoke Party! From the humble beginnings started by Lyrel in 2012, the event grew into pretty much a one-day convention with everything that goes with it. Everyone is welcome! If you want to meet with your Czequestria friends (or any other convention) or you want to experience first ever pony meetup to explore what pony fun looks like.
If you do not know how Winter Karaoke Party goes, check out the photos and videos from last year 🙂 The meetup is suitable for participants of all ages.
So don't hesitate; and mark your calendars and come enjoy the Christmas atmosphere with bronies!
When:  Friday 14th December 2018 (pre-party, 18:00–23:00) and Saturday 15th December 2018 (Main event, 11:00–22:00)
Where:  Friday – Club 001, Praha-Strahov (map); Saturday – Sokolovna Řepy, Praha (map)
For whom: everyone!
Program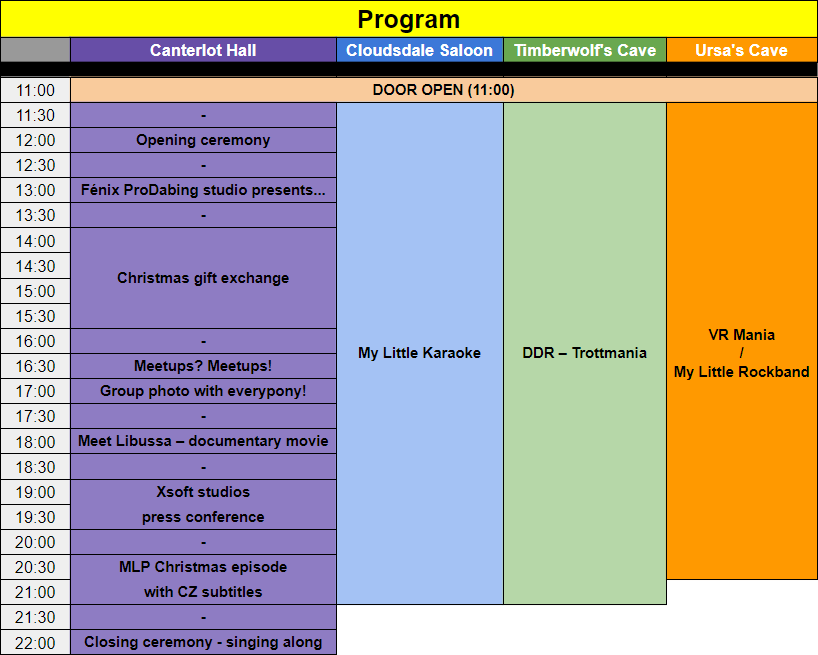 Tickets (for the main event on Saturday)
Basic ticket: 50,- CZK (~2 €) pre-order (100,- at the entrance, limited amount, ticket availability is subject to change and we can't guarantee it if you choose to buy a ticket this way! sold out!) – Includes Saturday entry, karaoke button pin, wristband entry ticket and brochure with the program.
Sponsor ticket: 250,- CZK (~10 €) pre-order only (limited amount, not to be sold at the entrance) – includes a wristband entry ticket, brochure with the program plus a button pin with this year's design, 2 vouchers for a Banquet & non-alcoholic drink, and our undying gratitude for helping to make this happen! And something extra, but that's still secret.
>> Registrations closed <<
---
FRIDAY (14. 12.) – Pre-party
Since we have everything ready for weeks (lol!), we can sit down, chat and enjoy Friday night as it should be (at least organizers should leave without anypony helping them)! Can you think of a better moment to get to know new faces and even to plan singing together with them?
In order to be "fresh" we will not be able to sit for too long (especially for those who participate in the event) – the next day a lot of interesting things await us, and it would be a pity to oversleep them.
Time: 18:00–23:00
Place: Club 001, Koleje Strahov, Vaníčkova 1911/5, Praha 6 (map)
How to get there: Take metro line B (yellow) to stop Karlovo náměstí. No matter which side you go out at, just follow the signs to the bus stop line 176 (direction Strahov). The stop (for both metro exits) is only one-way, so you cannot go to the opposite side. Your final destination is Stadion Strahov. You can get there also by bus 191 from Anděl metro station or by bus 143 from Dejvická metro station (in this case get off at Koleje Strahov station – it's just a few steps away).
After leaving the bus, head straight along the road that turns left behind the stadium – you will see the dorms on the right. In the first row, there are dorms 1, 2, 3, 4 and the right choice is … the first one! You just have to walk around the building. There are ATMs next to the stairs to the underground!
And what if you are lost? We have a map for you, a journey from the bus to the restaurant.
If you arrive by car, the nearest free parking is located in the street Jezdecká, just next to the block 1 building.
The restaurant does not cook! 
(But can prepare a frozen pizza.)
We recommend you to have dinner somewhere else in the city beforehand. Alternatively, you can eat at Restaurant Petřín in the area of Strahov dorms (Dorm number 8). Keep in mind, however, that if you meet other sixty bronies there, you will wait longer than you would want to.
For whom: For Karaoke attendees – and even if we do not expect the capacity to be exhausted, those who are registered in and have a ticket paid are preferred. Therefore, if you are 100% sure you will participate in the pre-party, please let us know in the application form.
Signing up: The capacity is up to 100 people – so we can fit there.
APPLICATION FOR THE PREPARTY IS A PART OF THE EVENT REGISTRATION FORM!
---
SATURDAY (15. 12.) – Winter Karaoke
Time: 11:00–22:00
Place: Sokolovna Řepy, Na Chobotě 125/2b, Praha 17 (map)
Christmas gift exchange
The annual search for gifts for everyone around doesn't tend to be the most delightful Christmas activity. This is why we came up with a different way at our first Christmas karaoke. It's not so strenuous and adds another element of surprise.
Everyone can take part in this: prepare one gift, but do not address it to anypony specific. Just wrap it and bring it to the party. Put the gift underneath the Christmas tree, and also write your nickname on the paper and drop it into a marked box near the tree.
Gifts will be randomly selected from the pile during the exchange, and one name will be drawn from the box for each gift. The lucky person then takes the present at the stage.
The gift can be anything as long it's MLP themed; something you make yourself (whether it's a drawing or a repainted figure) or another special thing – anything you cannot normally buy at a corner shop. Show others that you can do more than just buy a blind bag. If you don't know what to make for your gift, let the following video inspire you.
Location
As in previous years, the event will take place in Sokolovna Řepy (yes, already for the sixth time during our existence). So again this year we have plenty of space and it will be worth it! The premises were renovated again (for the second time during our existence!) and have an appropriately representative look for a meeting of a more glamorous character, like our Christmas.
Aside from the main hall, we will have a lounge (and not just one) for all our activities. The dressing room is a matter of course, and a stylish balcony is available for maximum view of the main stage. Just before the entrance, there is a car park for possible brony drivers.
You can find Sokolovna here: Map on Google Maps
Transport in Prague – how to get to the venue
The venue is easily reachable by public transport. You can arrive in three ways:
By bus 180 to station Sídliště Řepy – it departs from Dejvická (metro A, green), goes via Břevnov, Řepy to Zličín (metro B, yellow).
Trams 9, 10, and 16 to the same station – the best transfer point will be Anděl (metro B, yellow).
By a train of the S65 line to station Praha-Zličín (do not be fooled, the stop is next to the bus described above) – You can take it from Smíchov (Prague-Smíchov station, northern platform) or on the other side from Rudná u Prahy. S65 line is canceled due to railworks until 18th of December 2018, please use other substitute transport services.
From Sídliště Řepy station it's just 5 minutes walk (map) and you are in the venue.
Transport is fairly straightforward, but do not be afraid to ask for details. Or, use IDOS website/app.
Accommodation and common transport
If you are looking for accommodation and don't want to pay for a hostel or a hotel, you can ask local bronies if they have a free place for the sleepover. As with other meetings, these are often available, if you ask at the right place – in this case, the 7th Winter Karaoke Party discussion thread on our forum is the one you are looking for.
Advance payment
The purchase of tickets is via the payment system (see link above if the reservation is open). All reservations must be paid within 7 days of their creation, but no later than 3 days before the event! After this deadline, all unpaid tickets reservations are canceled automatically.
If you want to have a 100% guarantee that you will get the chance to get on meetup, sign up and pay the entry fee with a method of your choice! As we mentioned above, our consite is not bigger on the inside and the capacity can't be extended infinitely. In addition, you can help us pay for everything that needs to be paid in advance (from rent to catering). Thanks!
Of course, you can leave everything at the last minute and buy the ticket on the spot. But it will cost you twice as much. Moreover, there is a possibility that the capacity of the building will be exhausted, and people without prepaid tickets will not get in.
This year we also offer several tables to those more active of you who want to sell something from their pony works. The rules for vendors are the same as on Czequestria (see Rules for vendors at Winter Karaoke Party). Vendors will be let in 1 hour before the official start for the preparation of their table.
If you are interested in selling at Winter Karaoke Party, please contact us at info@czskbronies.cz and use Conaoke 2018 – VENDOR as a message subject.
We offer you a free place to sell, but all of the sales requirements are entirely at your command – we will only give you a spot to place your stand with craft or artwork. Of course, all sellers must have a regular or sponsor ticket purchased.
If you have any questions do not hesitate to e-mail us at info@czskbronies.cz!