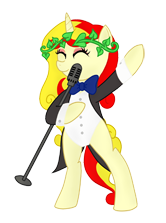 Christmas is just around the corner and the annual meeting of the CZ/SK bronies community is already knocking at the door. Although the Winter Karaoke Party is sold out every year a week before, this year's interest was even greater than usual – so despite the capacity increase, all tickets are sold out again!
This means, among other things, that tickets will NOT be sold on-site, because there are none left!
Thanks to all participants for their interest and we are looking forward to seeing you on Saturday!