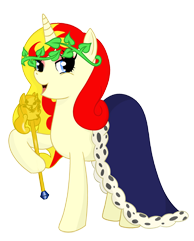 Sadly, we do not live in Equestria, where rules and laws seem much, much more relaxed. Therefore we've prepared this list to keep everybody and everypony safe and sound while enjoying the meetup!
These rules are applicable within the entire area of the Winter Karaoke Party and may be changed without further notice. The attendees must read and respect these rules. Tirek didn't and look where he is now.
In case of any question, please let us know to our e-mail info@czskbronies.cz (in English, Czech or Slovak language).
Measures against Covid-19
In order for the event to take place, we must take additional measures resulting from the current rules for social events – it is possible that these will change according to the current epidemy situation. If the rules of the event (listed below) are in conflict with the currently announced mandatory measures, the announced mandatory measures will of course apply.
Everyone present in the venue must wear respiratory protection with an efficiency of at least 94% without an exhalation valve (eg respirator FFP2, KN 95, nano veil) at all times. An exception to this rule is the necessary time to consume food and drink at tables aside, reserved for this purpose.
Please be considerate of others and strictly adhere to the respiratory protection rule! Failure to do so may lead to exclusion from the event without compensation. We also do not like the current situation and we would like to have Winter Karaoke as before the pandemic, but we definitely do not want to risk the health of the event participants.
In addition, all participants must prove that both of the following conditions are met when entering the event: 1) Proven immunity and 2) Proven absence of infection.
1) Proven immunity
The condition of proven immunity applies to all event participants over the age of 12 and can be met by proving one of the following ways:
Laboratory confirmation of having recovered from covid-19 disease in the period not longer than 180 days before the day of the event.
Proof of covid-19 vaccination, with at least 14 days since the last vaccine dose (second for two-dose vaccines, first for single-dose vaccines).
Children under the age of 18, persons with a contraindication to vaccination, and persons vaccinated with the first dose can use an RT-PCR test up to 72 hours old to prove to be infectivity-free. In this case, you acknowledge the responsibility for the risks and possible consequences of potentially insufficient protection of your own health!
The condition of immunity is taken over from the current government regulation for social events. Its fulfillment will be checked using the čTečka application (reader a verification) in combination with your ID (citizen ID, passport, or driving license): upon the entry, we will scan the QR code on the provided document (from a cellphone display or printed on paper), which the application will then verify.
2) Proven absence of infection
The condition of proven absence of infection applies to all participants of the event without exception (visitors, staff, and organizers)and can be met by proving one of the two following ways:
By submitting a confirmation from a test center or a certificate about passing the test on covid-19 with a negative result, valid at the time of entry to the event. The validity of the RT-PCR test is 72 hours, the validity of the antigen test is 24 hours. (Recommended)
By performing an antigen test under the supervision and assistance of the organizers on site before entering the building (for an additional fee added to the ticket) – this must be stated when buying a ticket. Please note that the test takes about 15 minutes, and will be taken individually – keep in mind that this creates a delay!
In the case of submitting a confirmation from a test center or a certificate of passing the test, the inspection will also happen using the čTečka application. This condition is based on the current anti-epidemic recommendation (not a regulation).
If that's an option for you, we recommend installing the application (Tečka – not to be confused with čTečka – or similar one used in your country) on your mobile phone, where you will have all the necessary data available (after verifying your identity).
Note about Tečka and čTečka applications: If you take the test in the collection center, do not be fooled by the fact that the verification apps (like čTečka) will consider it invalid (and the apps like Tečka will not even show it in the standard view) even before the deadline mentioned above. This is because a negative test is not a substitute for proven immunity, which is a necessary condition for entry into the event, resulting from the current government regulation. This has no effect on proving the absence of infection – at the entrance, confirmation from the test center will be checked for validity according to the time that has elapsed since the test was performed.
Entry and tickets
You will be asked to present with your printed-out ticket (English or Czech version), as well as your ID (citizen ID, passport, or driving license) at the event entrance. Afterward, you will be given your entry ticket (wristband) that you should keep on you at all times. Attendees under 15 years without accompaniment will present a form for admission instead of ID (see below).
You should present your entry ticket whenever the organizers ask you.
You may enter and leave the event with your entry ticket at any time during the program.
Tickets are bound to the name and age of attendees. It's possible to transfer the ticket to someone else, but the deadline is 2 days prior to the event start date!
You can get a full refund for your ticket if you cancel it no later than 1 week prior to the event start date. Exceptions are cases related to changes in the conditions for organizing events due to the development of the covid-19 epidemic (see below).
If the event cannot take place due to the newly announced anti-epidemic measures, the attendees will get a full refund for the ticket. If the maximum number of participants will be limited for the same reasons, attendees who do not fit within the limit will also receive a full refund for the ticket (starting with those who purchased their tickets later).
It's possible to buy the ticket for somebody else – simply fill in the details of the ticket holder.
Children under 11 are admitted for free, however, they need adult accompaniment. In this case, please buy the ticket for the accompanying person, and in the "Note" field state "Accompaniment", plus the number of kids which will you accompany (within reason – Fire and Safety regulations apply).
There is a limit of one ticket per ticket holder. Although it would be nice to have a millionaire pay for all of them, having 1 person on the entire event would be rather… strange.
We reserve the right to cancel and refund the ticket in any case. Although we do not expect to ever use this rule, it has to be there for legal reasons so yeah, here it is.
Attendees under 15 years of age
CZ/SK bronies z.s., Winter Karaoke Party, or any of its staff cannot be held responsible for the behavior and actions of visitors that are inside the event grounds nor for any injuries or damages caused.
Attendees under 11 years of age must be accompanied by a parent/responsible guardian.
Attendees from 12 to 15 years may attend the event without their parent or responsible guardian however, they will have to present a signed letter (filled form for admission) from their parent. This letter includes the name and date of the event, the name and birth date of the attendee as well as the name and mobile phone contact of their parent. This letter will be required for obtaining your entry ticket at the entrance of the event.
Form for admission of visitors from 11 to 15 years of age can be downloaded here.
Behavior – keep it cool!
At all times, please adhere to instructions provided by the organizers and staff (volunteers).
Winter Karaoke party is a family-friendly event – therefore no sexual, political, or otherwise inappropriate content should be displayed or featured. Breaking this rule will get you a swift ride out of the event grounds and ticket removal without a refund!
Although the venue will be our own bit of Equestria for the day, the laws of the Czech Republic still apply and will be upheld. Breaking the laws will not be tolerated – this includes forbidden substances and symbols.
Bins will be provided for the rubbish so thank you for using them! (don't wear them as a hat though!)
It's forbidden to connect any electronic devices to power sockets without further consultation and permission from the staff.
If you have a vendor pass, please do not sell goods outside of the assigned area or anywhere in the venue if you do not have vendor pass. Let's keep it fair for those, who've paid and put a lot of effort into it!
Please behave in a good manner towards the other attendees, staff, and guests – explaining a problem in a calm matter will get you further than shouting!
Any violent threats against guests, organizers, or other attendees during the event or in advance will not be tolerated and may lead to the ticket removal without a refund!
Safety, Security, and Salmon
You may use skateboards, rollerblades, scooters, and such as part of cosplay. However, it is forbidden to use them as a means of transportation.
Emergency exits must not be obstructed at any time. During an emergency, please do as instructed by staff and clear out the way for emergency services.
In case of fire, please let the staff and, if present already, fire services by shouting "FIRE!". Do as instructed by the emergency services and don't try to take on the fire on your own.
All weapons and their real replicas are forbidden. This also applies to airsoft, paintball, and laser guns, or anything explosive (ie fireworks).
LARP and safe-to-use soft weapons are allowed for cosplay purposes.
Staff's rulings on safety are always supreme. If you are unsure about your cosplay accessory, please contact us via email or via website/forum to make sure, thank you! You are saving us and yourself time in the case that we would have to disallow entry with a dangerous item.
If you are found in possession of a weapon that is forbidden by the Czech Republic's laws, we will be obligated to call the police and resolve the situation. There is no point in bringing such items to a My Little Pony event.
Food, drinks, and all sorts of hay
There will be no paid-for catering in the venue available during the event. There is a restaurant next to the event building and a supermarket nearby where you can order/buy food and drinks.
Own food and/or drinks are not allowed at the event. An exception is an unflavored water in plastic bottles.
Home-baked muffins and cupcakes/cookies for showcasing your baking skills to others are encouraged 🙂
General rules
Everybody and everypony are responsible for their own stuff.
Please try to follow the rule 6-2-1: at least 6 hours of sleep, at least two meals, and at least one shower every day. Also do not neglect to drink regularly. You will be able to enjoy the event more and the other participants as well.
Drunk visitors or visitors under the influence of any drugs will be escorted out of the event and will lose their tickets. We would like to remind you, once more that all of the Czech Republic's laws do apply on the event grounds, and breaking them, especially by consuming illegal drugs, will result in police calls.
For smoking, please use designated areas outside the event building to not annoy other attendees! This applies also to water pipes/hookahs and electronic cigarettes.
Live animals of all sorts including small pets are not allowed. The exception to this is guide-animals for people with disabilities. In this case, please contact us in advance via e-mail at info@czskbronies.cz.
The staff and the volunteers are here to help – do not hesitate to ask them for advice, help, or to share a complaint. If an unusual situation occurs, please consult the staff rather than trying to resolve it on your own. Thank you!
Violating these rules may get you expelled from the event grounds without a chance for refund or re-entry.
Data protection
All of the data provided to us will be used only for the purpose of this event and will not be provided to any 3rd party apart from governing bodies upon a legal, jury-sanctioned, request – see Privacy policy for details.
List of places where audiovisual materials from the event (taken by the association) can be published: